Columbia Tool & Die regularly invests in contemporary CNC machining equipment to stay at the forefront of industry technology. A preventative maintenance schedule keeps the CNC equipment running as new.
The most current release of NX CAD-CAM software is used to create models and to generate multi-axis CNC mill and lathe toolpaths.
Columbia Tool & Die boasts a wide range of CNC mills and lathes including our flagship Haas VF11 CNC mill. The Haas VF11 features an enormous work envelope and 120 inches in X-axis travel.
Our focal engineering competencies are in designing and manufacturing plastic injection molding tools, aluminum casting dies, metal stamping dies, work-holding fixtures, assembly, and inspection jigs.
Through a combination of analytical and creating thinking, we have helped guide many of our customers to solutions that have enhanced efficiency and productivity.
With a comprehensive knowledge of steels and polymers, we can confidently recommend the correct material for most mechanical applications.
Columbia Tool & Die can design, assemble and build complex and precise fabrications. We specialize in tight tolerance weldments that require machining after welding.
CNC Turning Center
Haas SL 30 Lathe, 20" turning capability, 36″ between centers, 12 station tool changer, 3000 rpm with 3" Spindle bore x 48″ bar feeder

Haas ST-20 Lathe, 12" turning capability, 20″ between centers, 12 station tool changer, 4000 rpm with 2" Spindle bore
CNC Machine Center
Haas VF-11/40 w/30 station tool changer, 120″ x 40″ x 30″ table capacity, 30hp 8,100rpm spindle, 4 axis capability
Haas VF8 w / 24 station tool changer, 64″ x 40″ x 34″ table capacity, 30hp 10,000rpm spindle, 4 axis capability
EC500 Horizontal Milling Center w / 40 station tool changer, 32″ x 20″ x 28″ work envelope, Dual pallet changer with 500 mm pallets, 8000-rpm 40-taper inline direct-drive spindle
Haas VF4 w/20 Station tool changer, 50" x 20" x 25" table capacity, 30hp 8,100rpm spindle, 4 axis capability
2 x Haas VF2 w / 24 Station tool changer 14″ x 36″ x 24″ table capacity, 20hp 10,000rpm spindle, 4 axis capability
EDM Machines
3 x Creator CR-6C Sinkers 34″ x 20″ table with 18 inch Z height
Turning Equipment
Atrump engine lathe 9″ x 60″ length w / Mitutoyo digital readout +0.0001
Milling Equipment
Ganesh 10″ x 54″ table variable speed w /digital readout +0.0001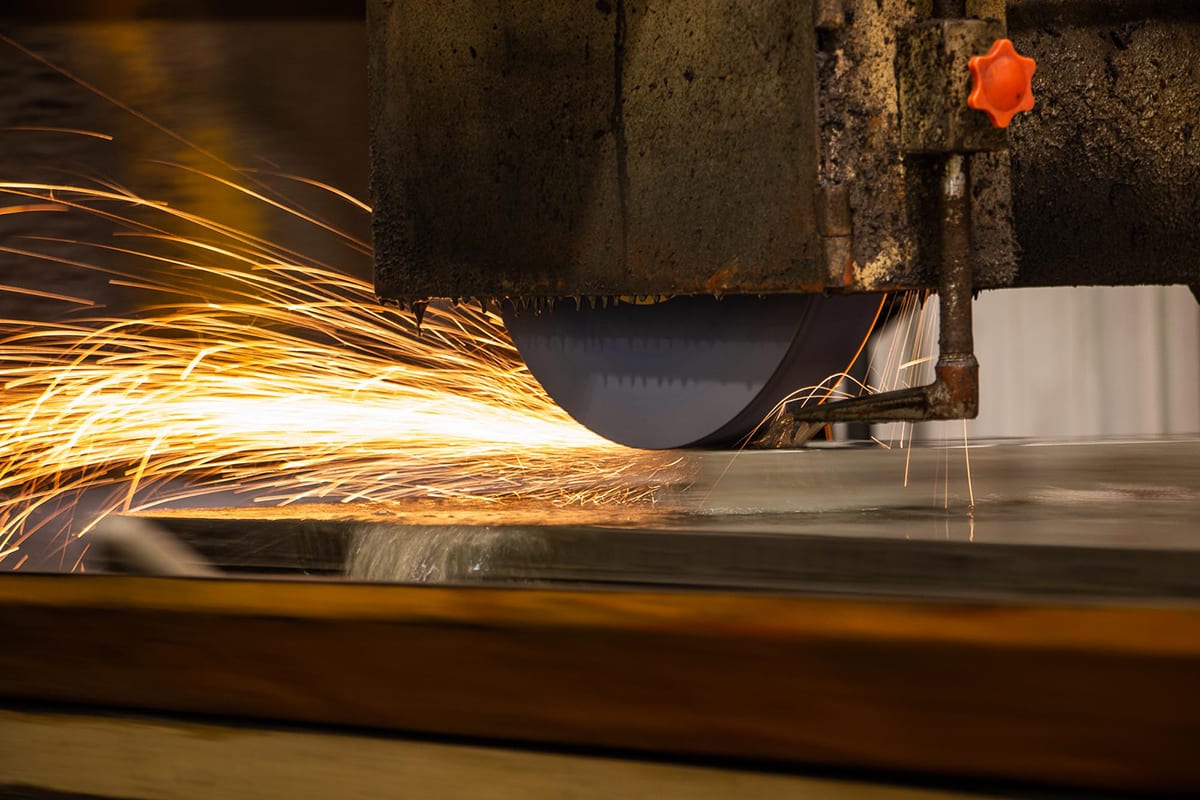 Grinding Equipment
Proth Surface 24″ x 36″ table
Kent Surface 8″ x 17″ table
Acer Surface 6″ x 17″ table
Welding
Miller Synchrowave 250 Amp water cooled TIG
Miller Dynasty 200 Amp water cooled TIG
Millermatic 252 200 Amp MIG
Lincoln Square Wave 200 Amp MIG
Therma Pack Plasma Cutter
Heat Treat
Lucifer 24" x 36" x 12" capacity oven
Tungsten Rocklinizer
Inspection
SPI CV-600A Benchtop Hardness Tester
Mitutoyo SJ-210 Surface Finish Tester
Phase II Portable Digital Hardness Tester
Cadillac Gage Set
ID Micrometers up to 40"
Mitutoyo PJ-300 Profile Projector Optical Comparator
Gauge Pins, Gauge Blocks
Miscellaneous
24″ x 24″ 100 ton bedding press
Cosen R-250NC Automatic Horizontal bandsaw 15" cut capability
Dake Johnson JH10 Horizontal bandsaw 18" cut capability
Horizontal and vertical belt sander
Aceco 5 ton (full bay) overhead crane
Caterpillar forklift truck 10,000 pound capacity
Please complete the form below to have a representative contact you